Welcome
Let's get started
I'm thrilled to begin our time together.
On this page, you'll find:
What you can expect during our time together.
Tools we'll use to collaborate + communicate.
A deeper look at my process.
What to expect as our project comes to an end.
Your homework & next steps!
Here's what you can expect while we are working together:
My office hours are:
Monday – Friday 10:00am – 5:00pm.
I'm based Hope, BC Canada and operate according to pacific standard time. You may convert these hours to your local time here.
Meeting days:
I'm typically available for video calls via zoom Tuesday – Thursday, between the hours of 10am and 4pm.
Call times are based on my availability and are scheduled in advance. You may (re)schedule meetings here.
Tools for communication + collaboration:
Our primary mode of communication outside of Zoom video meetings will be through our Asana project management tool. Further down this page, I'll provide a walkthrough of how we'll manage our project milestones inside asana. It's streamlined, organized and simple – I know you're going to love it!
Response times:
I will arrive promptly to all our scheduled meetings and respond within 24 hours during my office hours when you tag me in a comment in Asana. Response times don't include weekends, evenings, or local statutory holidays.
Hashtag truth telling: my inbox gets chaotic. In order to get a timely response from me, please use Asana. If you send me an email, note that I cannot guarantee a response time.
Clear communication keeps us on the same page, so if there's ever anything I can do to help you feel more at ease with our time together, I want to know about it! I welcome your feedback at every stage of our project.
If you ever have any questions or concerns during our project, don't hesitate to tag me directly in Asana!
Important
How we'll use Asana to stay on track
You probably have a plethora of apps to manage and now I'm inviting you to sign up for another one. I love Asana for so many reasons. It's pretty and linear so both right- and left-brained humans can enjoy their experience. Plus, you can cut down on the amount of emails you hold on to because everything is neatly organized by due date + archived for clarity. With reminders.
Ahem
. Most of my clients fall in love and use Asana for their businesses after our project is complete!
Even if you're familiar with Asana already, please watch this video to learn how we'll use it throughout our project. If you've never used Asana before, check out this super comprehensive how to guide.
Easy as 1,2,3 (4+5)
A deeper look at our process:
Step 1: discovery + prep
This phase includes everything we need to start and launch our project on time + within budget.
We'll meet for a project calendar reconciliation meeting where we will schedule all of our project meetings together.
You'll complete your Discovery Clarity Questionnaire so that I can review it and prepare for our Discovery Zoom meeting. You'll also join our project management tool and begin to prepare all of your content + materials.
You'll find your next steps for Discovery + Prep Phase including links outlined at the end of this Welcome Guide.
Step 2: research + strategy
I get to know you, your customers, and begin brainstorming how we'll position your brand as the unique choice for your right people.
Our first week together will be full of information gathering. I will have one initial 90-minute face-to-face discovery meeting with you and regular 60-minute strategy, presentation, and feedback meetings per our project schedule.
I conduct research, review all your existing resources, and complete a competitive analysis to see what else your prospects are seeing online… so we can intentionally design your unique presence!
Step 3: design
I dive into the creative process and begin sending you project deliverables one-by-one for your approval. I love collaboration. Your
feedback
on my composites is very much appreciated. Each of your deliverables includes two rounds of revisions.
We'll manage the feedback and revision process inside Asana and meet 1-2 times via Zoom depending on your project schedule.
Step 4: build
Your fabulous design transforms into a living, breathing, online presence. I translate it into solid digital home that includes the deliverables agreed upon in your contract.
During development I may send you presentation videos with links to the development site for feedback and/or collaborative brainstorming.
Each of your deliverables includes two rounds of revisions. We'll manage the feedback and revision process inside Asana and meet 1-2 more times via Zoom.
Step 5: launch
We wrap things up with thorough quality assurance testing + my launch checklist so that we know your website is impeccable before you present it to the world. I will ask you to join me in the testing process; click every link, fill in every form, go through every process and proofread every sentence.
On launch day, you'll pay your final invoice and I'll hand over the deliverables to your ownership. I'll also provide video training and documentation so that you can take care of your website, because I believe in true ownership. You'll have everything you need to manage and maintain your website, so you feel confident after our project ends!
Whether we are doing full strategy, branding, and site design or one of these three, you can rest assured that I put all my creative powers to work for you!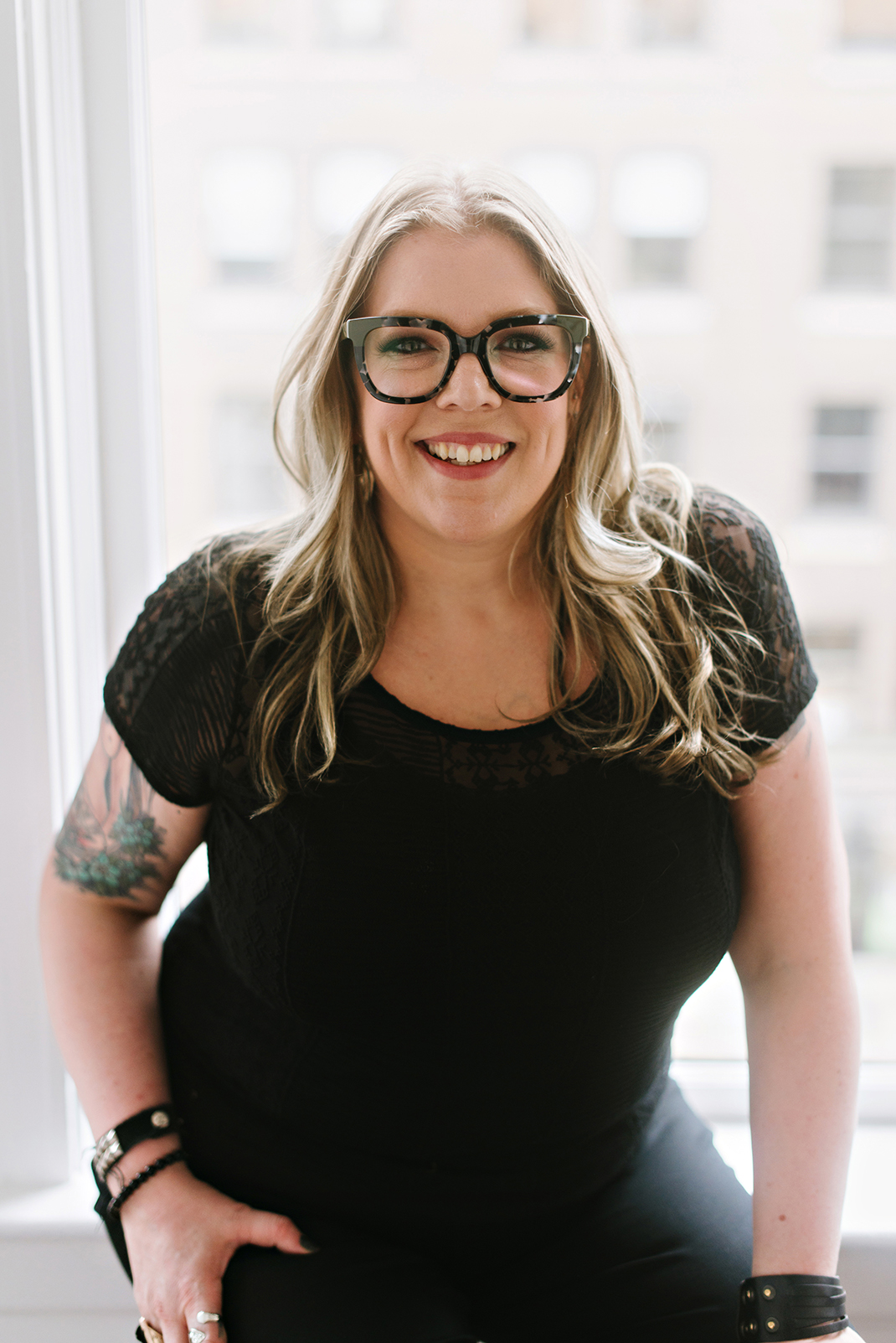 Important
My best tips for feedback + change requests.
I will provide you with a range of deliverables throughout the design process, ask for your feedback, and offer two rounds of revisions. This is such a wonderful opportunity for us to collaborate. Here are some of my best tips on how you can use feedback to make the most of your revision rounds so that you're 100%, head-over-heels in love with your final product!
Remember your goals
Think about how, where, and why the design meets or misses our project behavioural and emotional objectives or your business goals.
Centre Your Clients
Think about the design from your audience's perspective. How will the design will speak to them (or not)?
Describe the problem
Talk to me about problems that you see in the design and tell me why they are problems (let me come up with solutions—that's what you pay me for).
Ask me questions
I know that YOU are the expert of your brand, just as I'm an expert at brand strategy and design. The melding of our expertise creates a dynamic collaboration; I encourage you to ask me about my intentions around specific design choices. Some great questions are:
How does this accomplish my goals?
Is this necessary? Would it impact the design negatively if this element was removed?
What problem does this solve for my most valuable customer?
Can you walk me through how you arrived at the placement for this?
Be specific + Descriptive
It's quite surprising how subjective language can be when describing design. What I might interpret from "dial that back" or "make it pop" may be completely different than what you mean. Try to be as specific as possible.
What is 'it' and how will it 'pop'?
Do you feel like the colours (it) being used are too dull (not poppin')?
Is the typeface too formal?
Examine why you think it should it pop.
Is it because you personally prefer brighter colors and a sans-serif (personal preference), or is it because your brand legitimately calls for the material to be livelier (business strategy)?
Be clear about what you think is a problem and why it will not help achieve our goals.
Goal Digging
Your new online presence will exist to serve your primary brand goal.
To support this primary goal our objectives in this project are to:
Use best practices to position you as an expert in your field and establish credibility.
Differentiate you from your contemporaries/competitors by avoiding industry fads.
Engage with and grow your audience without using psychological triggers.
Provide strategic value at the right time for your growing loyal audience.
Showcase your services in a way that is unique to you.
Our Guide
In order to serve your primary goal, we'll use it as a guiding pillar throughout our project.
We will accomplish this by:
Being purposeful with all content. If an idea or picture or graphic or anything doesn't serve your primary goal, we will throw it to the editing floor.
Making it easy for your people to connect with you + your offer and therefore convert! We'll make your followers lives easy, so they really understand what you do and how you do it.
Keeping it simple. We will not get complicated or try to get too fancy. We will always keep your goals in mind and simply focus on them! (ex: if your goal is to teach, training materials will be the focal point of your site! If your goal is to capture leads, then your sign-up form will be the most prominent feature of your site.)
Launch
What to expect after our project:
Commit to your launch
Stick to your launch date by attending all scheduled meetings on time and providing deliverables on time or before the due date.
Project delays will be charged a 5% per week late fee per our contract.
Breathe and be gentle with yourself
It's OK to start small, to not have a year's worth of marketing materials, to feel like a not-so-expert or even a fraud. We all feel that from time to time. Especially around launch time.
Resist the urge to compare your brand to others. What matters is that you've shown up. You're doing your work, and you're ready to share (or keep sharing) with your audience.
Most "overnight successes" took years to get where they are. It's super easy to look at others and compare yourself to them but that's not helpful. What is helpful is having grace for yourself, where you are right now, and keep moving.
Engage early and often
I don't believe that you must be on any or all social media platforms, but if you are, then make sure you are using it to engage your people before, during, and after launch! Ensure your accounts are set up and active before launch, engage your audience with launch date announcements, sneak peeks and free content.
On launch day
Celebrate!
Initiate your launch plan. Generate buzz, tell your friends, family, colleagues, lists, etc. that you are live! Promote your content on as many channels as you can! Think: your email list, social media, webinars, guest spots on podcasts, etc. Beat those algorithms by talking to folks IRL; ask them to click, share, and tag you + your content!
Breathe. Hug yourself while jumping up and down. Repeat.
Post launch
Create, promote, and market.
Keep showing up in the way that you do best. Create value, engage with your audience, keep your agreements, and explore new ways that you can grow this beautiful brand that you love!
Test, tweak, rinse, repeat.
Know that websites are a constant work in progress that you'll always be testing, tweaking, and refining as you get to know your brand and your market better.
And the most cool thing about WordPress is that you CAN test, tweak, and refine without calling on your web developer all the time!
Running a successful online brand is all about building connections, asking questions, creating valuable content, and refining your online presence to be more specific + helpful.
Let's Begin
Your homework
+ next steps
I'm delighted that we're working together and I can't wait to dive in!
In the time before we start the research + strategy phase together, complete all these tasks so that we have everything we need to start and complete the project on time + within budget.
All the following steps will also be outlined in our Asana project management board with more detailed descriptions and important due dates.Here's to getting your amazing work in the hands of more people who need it!
Peace,
Jamie Leigh
Add all our meetings in your schedule and plan for an extra 1-3 hours per week for collaboration and feedback.
Gather + prepare all your existing content (page copy, keywords, images, video, etc).
Grant hello@jamieleigh.com admin access to your website-related apps and services.